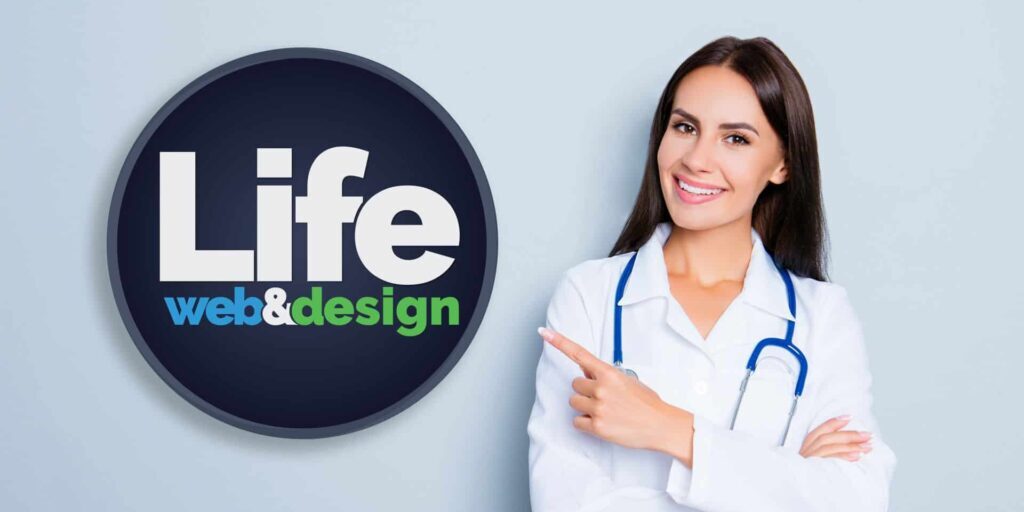 The web design of your medical clinic, practice or hospital site has the potential to make the difference between a steady stream of patients and comparably few patients. In short, people really do judge medical practices based on the merits (or lack thereof) of their website. If your website is easy to navigate, polished and mobile-friendly, people will be inclined to pick up the phone to schedule an appointment. If the website is clunky, slow, outdated or otherwise flawed, online visitors will pivot to other sites and give their business to your competitors
A Website That Develops Leads for Your Medical Practice
A website that is easy on the eyes, has an exemplary user experience design and is responsive on mobile devices will help convert leads into paying patients. These online visitors will be impressed with your website to the point that they reach out to you for more information and/or schedule an appointment. Alternatively, a low-quality website will alienate online visitors to the point that they give their business to your competitors.
The Website Must be Mobile-Friendly
Once your website is developed, polished and fully functional, it will be tested on mobile devices to guarantee it functions just as well on those devices as desktop computers. Our team will make sure the website will function without flaw on laptops, smartphones, tablets and other mobile web-connected devices. If the site does not load in three seconds or less on these mobile devices, if the menus do not function when clicked or if any other problems arise, make the necessary improvements. Otherwise, a growing portion of your online visitors will be frustrated by the site's performance on their mobile device and segue to a competitor's site.
Forms and Questionnaires Should be Available Online
The best medical practice and medical clinic websites empower patients to complete questionnaires and forms online. Your contact form, appointment scheduling form and questionnaires should be easily accessible from your homepage. Furthermore, these forms should be designed intuitively so users do not have any question as to how to fill them out properly and submit their information. Simplify and facilitate the completion of such forms and questionnaires and your patients will be that much more inclined to use your website.
Recognize the Power of Google Maps
Your medical practice, clinic, hospital or other business must be listed on Google Maps. A Google Maps listing ensures those who search for your practice or businesses that offer similar services in the area will find your company's contact information and be able to schedule an appointment with your office in mere seconds. Add in the fact that Google Maps enhances your practice's search engine optimization (SEO) and you have all the more reason to let our team create your listing. Our team will also update your contact information on the Google Maps page after your address, phone number or other details change, ultimately ensuring those who find this component of your online footprint can reach you to schedule an appointment.
Your Website Should Include Doctor and Staff Bios
Prospective patients want to learn about your practice. If your website does not yet have bios of your doctors and other staff members, it is time to add them. Once these bios are in place, those who visit your site will be able to learn about your team and ultimately trust you that much more. The bios should be informative, patient-friendly and written without complicated medical jargon, ensuring readers of all education levels understand the merits of your team.
The Best Medical Clinic Web Design Includes a FAQ Page
A FAQ page is essential to the success of your website! The FAQ page provides patients with invaluable information about your practice and services. This is your opportunity to address common questions and concerns, alleviating patient anxiety and providing clarity about the quality of your practice. Furthermore, the benefit of an informative FAQ page extends to saving time for your staff members as they will be able to focus on actual work rather than addressing common client inquiries and concerns. These key staffers will be liberated to zero in on patient service and adding to the bottom line rather than spending time answering questions that could be addressed that much more efficiently with a medical clinic web design featuring an informative FAQ.
A Professionally Designed Site Enhances your Credibility
The best medical practice websites bolster the office's credibility, making them appear professional and respectable in all regards. In short, you should view your website as an opportunity to establish trust in your practice. If the website is professionally designed, it will work for your business 24 hours a day, 7 days a week, ensuring everyone who visits this important component of your online footprint views your team as truly professional, trustworthy, knowledgeable and caring.
A professionally designed website will be polished to the point that it brings that many more patients in through your doors. Every last detail of your page should be carefully analyzed to guarantee it presents your business in the best possible light. From the font you select to the professionalism of the images to the page layout, site speed and beyond, these are some of the ways Life Web & Design makes your medical clinic stand out from the rest. Lean on a web design professional to handle these subtleties on your behalf and online visitors will view your team as credible and worthy of their business.
Check out more posts below...