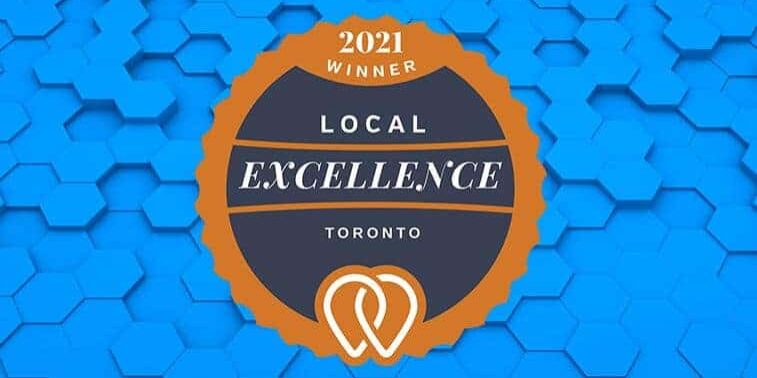 For more than a decade, UpCity's mission has been—and continues to be—to help businesses find B2B service providers they can trust. The UpCity Recommendability Rating was developed to determine a service provider's credibility and recommendability, giving UpCity the confidence to recommend them to the more than 1.5 million businesses that visit their site.
Each year, UpCity analyzes and scores more than 70,000 service providers based on their UpCity Recommendability Rating and acknowledges the top national and local providers with an UpCity Excellence Award. The results are in, and we won!
We are ecstatic to announce that the Life Web & Design team has been recognized as one of the top B2B service providers of 2021 in the Toronto area by UpCity!
At Life Web & Design, our goal is to not only meet but exceed our clients' expectations by providing an all-in-one solution for all of their web-related needs. Our team is dedicated to understanding exactly what a company needs in order to help make it successful.
Mark Tepper, Senior Vice President of Sales & Customer Success at UpCity, had this to say about Life Web & Design:
"The team at Life Web & Design prides themselves on creating long-lasting partnerships with their clients. It's a group that excels at putting the customer first. They deliver top-tier content that gets results and provide exceptional communication throughout the entire process. Congratulations on the 2021 Local Excellence Award!"
This recognition has been driven in large part by our 5-star review rating on UpCity. Here are a few of our favorite pieces of feedback we've received from our incredible customers:
"I needed a complete revamping of my website. It was done in no time at all and it looks great. I'm very pleased. Highly recommended."
"Life Web and Design made my logo and website and I'm so happy how it turned out. Great experience all around!"
"Alex was very diligent and looked after my professional appearance as if it were his own. great work will use life web and design again."
Thank you to UpCity for this wonderful award, and thank you to all of our clients who have helped make it possible! We look forward to the opportunity to continue to develop new and innovative ways to help all of our customers be successful and grow!
Check out more posts below...